Soldiers, Need a Belly Lift? Babybellybands got your back!
Babybellyband® supports our soldiers in the Pregnancy and Postpartum Physical Training Program – P3T .  P3T is a training program offered by the military for pregnant and postpartum soldiers.  If you are involved with the military,  CABEA provides Babybellyband® maternity support wear at a discounted rate.  To qualify you must provide either a military APO address or military id (please block out any id numbers and email to [email protected]). We will provide a gerenous coupon code.  We also are beginning to connect with many military hospitals and VA hospitals who are ordering and providing the Babybellyband directly to soldiers.  Ask your military OB/Gyn to request this product to be sources from us.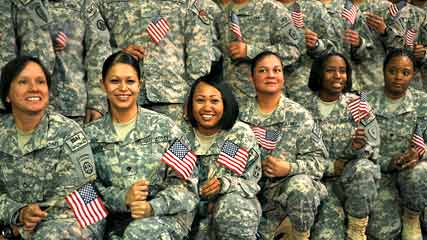 HELPFUL RESOURCES FOR PREGNANT SOLDIERS: 
How did Babybellyband® connect with the Pregnancy and Postpartum Physical Training Program (P3T) at Fort Huachuca?  Here's the story:
Captain & Sergeant provide for SOLDIERS IN NEED
 Sergeant Stephanie Rosario, stationed at Fort Huachuca in Arizona was pregnant  while in charge of training other pregnant and postpartum women in the Pregnancy and Postpartum Training Program at Fort Huachuca.  One of her comrades in training was experiencing severe sciatica (back pain) (non-invasive treatments). Sgt. Rosario researched products online, found the Babybellyband® products and purchased a set for her comrade and herself.  She liked the Babybellyband® Ab band because of the durability yet soft feel and flexibility of fabric during training.  The extra back support helped  tremendously, enough so she & her comrades could continue with the physical training.
 Sergeant Rosario was concerned for other soldiers in her unit.   Having seen many excellent women develop pregnancy related difficulties due to training and need to take a leave or be discharged due to their developed 'disability', she felt that they too would benefit from wearing preventative, healing support.  Sgt. Rosario brought the Babybellyband® system of support to the captain of her unit, Captain Meyer.  She was impressed and also felt that providing preventative support  was an excellent idea.
Captain Meyer put together a proposal, but after the concept was reviewed, they were denied the funds to purchase the needed Baby belly bands for the soldiers under their care (we are working on this:).  The soldiers pooled their own money together and purchased the products from CABEA at wholesale cost. Captain Meyer purchased extra bands with her personal money in preparation for other soldiers who would be coming into her unit.  Captain Meyer and Sergeant Rosario are examples of the caring, nurturing, persistent soldiers who make up our military.    As a civilian, I was so proud of both women who showed amazing care for their comrades.   Their unit is now functioning efficiently and the soldiers are feeling amazing relief from their discomforts and are able to participate daily in the required training.
---
At CABEA we are working on getting the abdominal support bands supplied to the military through various programs and have even written to our congressmen/women asking for proper funding to be allocated for pregnant soldiers in training.  In the mean time, CABEA would like to help with this mission until we can have our products supplied directly.  Military personnel call us for a coupon for discounted purchase pricing.
If you have questions, please contact us.
Update 11/01/2017: Since writing this article in 2014 Sergeant Rosario has move up in the ranks and changed locations, congrats!  We are supplying to some military  hospitals and OB/Gyns within are requesting the Babybellyband directly!  Ask your doc to request that the Babybellyband be sourced at your military hospital.