How to Wear Baby Belly Band Groin Bands
How to wear the BabyBellyBand® for Inguinal or Femoral Hernia Support
How to Wear the Babybellyband® for Vulvar Varicosity Support

Groin Bands for Pelvic Compression Therapy
Award Winning groin bands velcro onto the Babybellyband (sold separately) . Provides ultimate support for pelvic pain,  pressure and heaviness. Soft, flexible, and easy to adjust. 
Product Description
Order Maternity Belt Here – It's Sold Separately
Compression Therapy Groin Bands
Award-Winning Babybellyband Compression Therapy Groin Bands velcro attach to the Babybellyband Maternity Abdominal Belt (sold separately). The adjustable, removable groin bands provide immediate relief for pelvic pain from pregnancy. Upward and inward compression support is provided by each groin band. This action can lessen vulvar varicosity swelling, support the pubic area and compress prolapse/hernia protrusions or bulges.
Pelvic Straps Provide What You Need:
IMMEDIATE RELIEF from Pelvic Pressure, Pain and Feeling of Heaviness
NATURAL HEALING TREATMENT for pregnancy pelvic pain is recommended by doctors, midwives, doulas, and physical therapists!
PROVEN SUCCESS for PELVIC PAIN RELIEF:  We carefully designed and tested these pelvic groin straps approved by doctors, midwives, and PT's. They have healing results. You can rely our products and us, we guarantee them!
94% of users reported pain relief
75% were able to return to normal activity.
Unique Features Create the Best Pelvic Supporter:
EASY TO WEAR and put on. Lifting your leg to step into garments can be painful, our sling easily attaches with Velcro.
ADJUSTABLE Customize-able compression support from MILD to HIGH
FREEDOM OF MOVEMENT of each groin band allows you to move and place them in your area of need and support.
SPECIALIZED FABRIC: Super soft, breathable neoprene with cooling outer fabric (LATEX-FREE), designed to keep shape and stretch, while providing excellent support and comfort.
PERFECT WIDTH WITHOUT BULK: 2" Width specifically tried and tested coverage, with proven results
NO BINDING, STIFF EDGES: Smooth and soft for delicate skin
REMOVABLE: Healing can happen and you no longer need the groin bands, remove and just wear the maternity-abdominal belt
EASY CARE: Durable and Machine washable-low tumble dry
MADE IN THE USA: We care about quality and supporting our workforce
Get Back to feeling active with Babybellyband's Compression Therapy Groin bands!
Recommended for relief of pelvic pain caused by:
pelvic floor pain and pressure
vulvar varicosities
perineal edema and varicosities
symphysis pubis dysfunction (SPD)
prolapsed vagina or uterus
pelvic girdle pain
pelvic congestion syndrome
inguinal or femoral hernia
twin or multiple pregnancies
abdominal lymphedema support
Exercise during pregnancy or weight loss
Frequently Asked Questions:
What about using the restroom/lavatory? Babybellyband Compression Therapy Groin bands were designed with ease-of-use in mind – simply detach, then reattach when ready. The bands do not require stepping into which often is painful if you have the conditions listed above.
What size am I? Refer to the height-weight Sizing Chart above to determine your size
Do I have to buy the Babybellyband Abdominal band too? Yes, both the SPORT and Original and Flip-IT Babybellyband's are specially designed with Velcro compatible fabric which the groin bands can attach onto. These 2 products work together to encourage pelvic wellness and provide amazing, upward support for your belly and pelvic floor discomforts. The groin bands in this purchase include a set of groin bands pictured in the photo only, not the belly band. However if you would like to purchase both at the same time, check out our Vulvar Varicosity Support Kit! It comes with the groin bands, a belly band, and a soft hot/cold pack!
Will the groin bands work with OTHER Maternity Belts? No. The groin bands need Velcro or hook compatible fabric in order to securely attach to the maternity belt. Our Babybellyband Original and SPORT and FLIP-IT bands are made of a custom-designed fabric which allows the groin bands a wide range of area to attach onto. We highly recommend that you do not use another maternity belt. The hook on the groin bands may destroy the material on another maternity belt and we do not guarantee that they will function properly using another brand's maternity belt.
Does the Babybellyband SPORT work with the groin bands? Yes, all of our maternity belts work with the Compression Therapy Groin Bands to provide excellent support and encourage pelvic wellness. The SPORT band simply has a different base fabric that is still velcro compatible. It is also super breathable and anti-microbial, making it perfect for athletes, abdominal wound care (like a Cesarean section), or a hot climate.
Do I have to be pregnant to wear the Babybellyband products and Groin Bands? No, both men and women can wear this product for pelvic, hip, abdominal, hernia, and pelvic floor issues. It encourages pelvic wellness for all genders!
Can I return or exchange this product? Yes, you can exchange or return this product within 30 days of purchase if the product meets our requirements: Return / Exchange Policy
Contact us if you have any questions: 860-238-7788 | [email protected]
DON'T FORGET TO ADD OUR MATERNITY BELT TO YOUR ORDER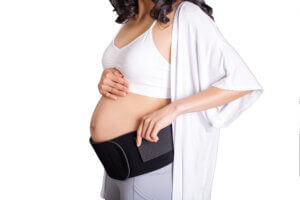 Looking for more BACK OR PELVIC FLOOR SUPport?
Shoulder Straps help lift the abdomen off of the pelvic floor area.
Shoulder Straps (sold separately) are an available add-on to provide extra lift and back support as well as relieve pressure in the pelvic area. We highly recommend the shoulder band for pubic symphysis, twin or multiple pregnancies.
Additional Information
| | |
| --- | --- |
| Weight | 1.3 oz |
| Groin Band Sizing | Small, Medium, Large |
| Care | Machine washable, tumble dry low heat. |
| Materials | Perforated SBR neoprene with nylon/spandex laminate |
| Need Help? Call Us 860-238-7788 | |
| --- | --- |
| | |
| Don't Forget to order your Babybellyband Maternity Belt too:) | |