How to Wear the Babybellyband for back, hip, and postpartum support

Babybellyband SPORT Pregnancy and Postpartum Hip Support Belt
Babybellyband SPORT is a lightweight, breathable hip support band for pregnancy and postpartum pelvic care, Physical Therapist recommended
Product Description
Babybellyband SPORT Pregnancy and Postpartum Support Belt
Pregnancy Care
Lightweight, breathable, latex free fabric makes Babybellyband SPORT support belt perfect for an active pregnancy. The soft, flexible fabric allows for free movement and relieves belly, hip, back, and hernia pain throughout your pregnancy and postpartum.   Easy to use and adjustable for all levels of support with the removable add on support band feature.  Physical therapist across the USA recommend our brand as a pelvic support belt because of the sleek design which can be worn on the lower back or hip area to support muscles so they can heal and relieve back and hip tension.  Custom designed fabric allows for Velcro compatibility all over the surface so that all Babybellyband components (groin bands and shoulder straps) can be added-on at any time.   You don't have to be an athlete to wear this maternity belly band, it's cool, comfortable and ultra supportive for anyone!
Postpartum Care
The unique anti-microbial properties of the Babybellyband SPORT fabric make it ideal for postpartum wrap or cesarean section care.  Breathable and soft, not too wide, this belt provides just the right amount of support and care for any c-section.  Postpartum hip and back support is provided  with a removable extra support band so you can regulate the amount of lift and support you need.  The 4″-6″ width (depending on size) provides just the right amount of care to support without digging into the ribs or upper belly. Babybellyband SPORT let's you get back to being mobile and active again.
Suggested to relieve
pregnancy and postpartum discomfort
Cesarean section (C-section) care
round ligament strain
diastasis recti
abdominal strain
back pain
lumbar pain
hip pain
si joint dysfunction
sacroiliac joint pain
symphysis pubis dysfunction – SPD
pelvic girdle pain
lymphedema support
bariatric issues
umbilical hernia pain
abdominal hernia support
excellent for twin or multiple pregnancy
post operative surgery
bouncing belly during exercise
Can I wear this if I am not pregnant? Absolutely!
All ages and genders are wearing our products ! For sizing, measure your hip inches and compare on our sizing chart
We do not support girdling or binding after pregnancy.
We believe women can heal naturally, post pregnancy bodies are beautiful, and girdling is unhealthy for women.
Please read our article  "Do Postpartum Belly Wraps Work for Weight Loss? Truth or Myth"
Additional Information
Weight
6 oz
Dimensions
10.5 × 2 × 7 in
Maternity Belly Band Sizing

XX-Small fits 25-30" waist/hip, X-Small, fits 30-35" waist/hip, Small: size 0-6, 35- 40" waist/hip, Medium; size 8-10, 40- 45" waist/hip, Large: size 12-20, 45-50" waist/hip, XL: size 22-24, 50-55" waist/hip, Goddess XXL: 55-70" waist/hip

Materials

Material:
Made of Open-Cell fabric: foam based with a spandex/nylon velcro compatible outside, the Babybellyband® SPORT belt is super airy, anti-microbial, breathable, and lightweight. FREE of LATEX Made in the USA

Widths:
S-M = 5" width
X-Small = 4" wide for very petite generally non-pregnant individuals
Plus Size XXL= 6" wide abdominal band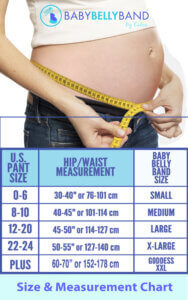 SPORT Band Sizing Chart
Women's US Pant Size
Fits waist or hip size between
Belly Band Size
00-0
25-30" inch or 63-76cm

XXS
2-4
30-35 inch or 76-89 cm


XS
6-8
35-40 inch or 89-101cm


SMALL
8-10
40-45 inch or 101-114cm
MEDIUM
12-16
45-50 inch or 114-127cm
LARGE
18-22
50- 55 inch or 127-140cm
EXTRA LARGE (XL)
1X-4X
55- 70" inch or 140-173cm
XXL
GODDESS
Measuring yourself for the Babybellyband®
Pregnancy abdominal and back support
Place the measuring tape on your lower back above your hips, then measure down under your belly where the abdominal band will fasten to lift your abdomen.  This measurement will give you an idea of your abdominal circumference.
Hip/Pelvic or Sacroiliac joint support
Place the measuring tape on your lower back below the top of your hips (where low cut jeans would be) then measure around your pelvis to the front where the abdominal band will fasten.  This measurement will give you an idea of your hip circumference.
Babybellyband® GROWS WITH YOU!! This Maternity support belt and accessories are sized to assure that each component fits you properly. Selecting each component size separately (belt, groin, and shoulder strap) provides customized sizing to fit each unique body type. Based on our sizing, the BabyBellyBand will fit you throughout your entire pregnancy and during postpartum.
Trouble/questions about sizing?
Call 860-238-7788 or email [email protected].
What's the Difference between the Original, Reversible or SPORT?
Choose between the Babybellyband Original, SPORT, and FlipIt Reversible, maternity bands
Things that are the same with all the Babybellybands:
The design, sleek and flexible
Works with the groin and shoulder straps
Latex-free
Velcro compatible fabric on the inner and outer sides.
The difference is in the support level, fabric and color:
The Babybellyband Original Maternity Belt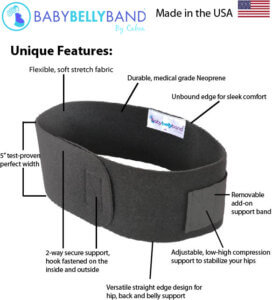 is tried and true, always loved for its flexibility, excellent support and longevity. The Original is:
black on both sides and made of neoprene (scuba diving material)-with a super soft,
The material is durable, holds its shape well and is very supportive.
This material tends to have a longer lifespan if you need this beyond pregnancy but a bit less breathable.
This original belt comes with 1 add-on elastic extra support belt for adjustable support levels from mild to strong support.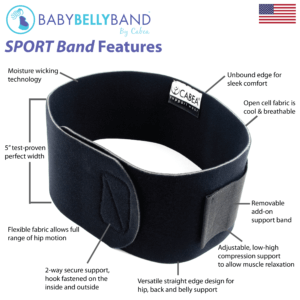 The SPORT band is light weight to provide flexibility and airiness and is:
made of an open-cell foam-based
is hypoallergenic more breathable, and lightweight so if you are active or live in a hot climate, have sensitive skin, or are having a c-section this may be the better choice and more comfortable for you
The SPORT belt comes with 1 add-on elastic extra support belt for adjustable support levels from mild to strong support
The Babybellyband Flip-It Reversible is our strongest support belt and great longevity for more than one pregnancy or daily use.
The Babybellyband Flip-It is:
Reversible is made of Black on one side and Flip-It for beige on the other which is great for matching or hiding under all types of clothing.

Comes with 2 removable, add-on support bands in black and beige so you can have the same superior support with both colors.

The material is also neoprene so has the same fabric qualities as the Original Babybellyband.

Support is greater medium to heavy duty with a stiffer yet very flexible 5″ belt for stronger support