FLIP-IT Reversible Belly Band- Black and Beige
Babybellyband Flip-It Maternity Support Belt is completely reversible! Black on 1 side, Beige on the other, this belt can be worn discreetly under any outfit.  Supportive and comfortable for Pregnancy and Postpartum.
Product Description
Flip-It Reversible Belly band for Women and Men
CABEA Flip-It Reversible Pelvic Support Belt / Belly Band, a 2-in-1 support belt:  black on one side and beige on the other!  Supporting hip, belly, and back this belt provides adjustable compression for everyday use.  Designed by health professionals to relieve hip, pregnancy, and postpartum pain, sacroiliac (si) joint dysfunction, chronic hip pain, and lower back strain.
Exclusive to Babybellyband® are its add-on features: groin or shoulder straps (sold separately) which can be added for extra back, belly or pelvic floor support. This support belt can be worn during pregnancy, postpartum or by non-pregnant women and men.
Fabulous Customer Testimonial for the guys and women:
"I have been using the Babybellyband system for years for chronic hip issues.  I first used the Original Babybellyband, then the SPORT, and now the Flip-It Reversible which has provided a much more durable and solid structure and support for my hip instability pain.  I can lift, rake, and do all outside chores with confidence.  I am a 65 year old man and I couldn't give a hoot that this belt was originally made for pregnant women.  It is the best belt I have tried on the market and I have tried many!  I can't speak for pregnant moms, but I sure can speak on behalf people suffering from chronic hip pain.  Get this product!"  Dave J, Rockford, MN
FLIP-IT Reversible Pelvic Support Belt provides all the features you need:
TWO COLORS Black and Beige IN ONE SUPPORT BELT:  Best for the price, just buy 1 belt and FLIP-IT!
2 ADD-ON EXTRA SUPPORT BANDS (1 Beige and 1 Black) lets you control compression support level from mild to high
EXTRA SUPPORTIVE and DURABLE provides structure and support so your muscles and ligaments can relax and begin to heal.
FREEDOM OF MOVEMENT WITH FLEX FABRIC: Bend, stretch, touch your toes (well, maybe not), FLIP-IT Reversible Pelvic Belt is durable yet flexible so you can be active without restriction
A Pelvic Support Band you'll love for these reasons:
SOFT and COMFORTABLE FABRIC
HIGH QUALITY VELCRO AND VELCO LOOP FABRIC: durable and long lasting
PERFECT WIDTH FOR SUPPORT WITHOUT BULK: wide enough but not too wide (think riding up and rib poking, argh).  FLIP-IT is a tested pelvic support belt recommended by Physical Therapists
2-in-1 ADJUSTABLE SUPPORT for All Day Use – You only need to buy 1 pregnancy /postpartum belt! Wear from the start of pregnancy through postpartum and beyond for round ligament pain, diastasis recti, SI joint dysfunction, c-section support, and after birth belly support
YOUR IN CONTROL: Wear it high, wear it low, wherever it feels good, on the hips, higher up on the back, around the belly button, it's versatile by design!
PERSONAL SUPPORT: We are here for you! We can provide answers to sizing, which products you need, just give us a call.
MADE IN THE USA: We care about quality and supporting our workforce. All of our products are Made in the USA!
Experience a more comfortable pregnancy and life with the FLIP-IT Reversible Maternity-Pelvic Belt!  You deserve relief!
Suggested for relief from discomfort caused by:
round ligament strain
diastasis recti
abdominal strain
back pain
lumbar pain
sciatica
sacroiliitis
Symphysis Pubis Dysfunction SPD
Chronic pelvic pain
sacroiliac SI  joint pain
lymphedema
bariatric issues
umbilical hernia
abdominal hernia
Twin or multiple pregnancy
Cesarean section (C-section)
Exercise During Pregnancy
Postpartum Wrap
Also use as an Abdominal Binder postpartum
Experience a more comfortable pregnancy and life with the Babybellyband Flip-It Pelvic Support Belt.
Not Pregnant? No problem.
All ages and genders are wearing our products now! Check out the sizing tab to find the right fit for you.
Need even more support? Check out our unique Add-ons!
UNIQUE from any other maternity support belt, the Babybellyband® has optional add-on components if you need more support.
The shoulder bands (sold separately) can be added to increase abdominal lift and redistribute weight. This relieves back and abdominal strain!
If pelvic floor discomfort arises such as vulvar varicosities, inguinal hernia, pubic symphysis, prolapsed uterus or vagina, or just plain old pressure down under, add the Velcro attachable Babybellyband® groin bands to the system (sold separately).
Learn More on our Blog about Back Pain during Pregnancy
American Pregnancy Association Back Pain During Pregnancy Treatment
Additional Information
| | |
| --- | --- |
| Weight | 7 oz |
| Maternity Belly Band Sizing | Small: size 0-6, 35- 40" waist/hip, Medium; size 8-10, 40- 45" waist/hip, Large: size 12-20, 45-50" waist/hip, XL: size 22-24, 50-55" waist/hip, Goddess XXL: 55-70" waist/hip |
| brand | |
What's the Difference between the Original, Reversible or SPORT?
Choose between the Babybellyband Original, SPORT, and FlipIt Reversible, maternity bands
Things that are the same with all the Babybellybands:
The design, sleek and flexible
Works with the groin and shoulder straps
Latex-free
Velcro compatible fabric on the inner and outer sides.
The difference is in the support level, fabric and color:
The Babybellyband Original Maternity Belt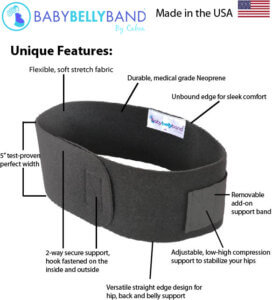 is tried and true, always loved for its flexibility, excellent support and longevity. The Original is:
black on both sides and made of neoprene (scuba diving material)-with a super soft,
The material is durable, holds its shape well and is very supportive.
This material tends to have a longer lifespan if you need this beyond pregnancy but a bit less breathable.
This original belt comes with 1 add-on elastic extra support belt for adjustable support levels from mild to strong support.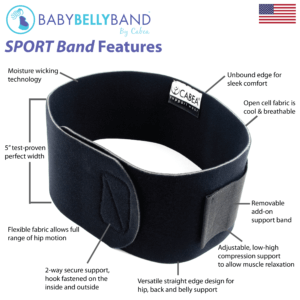 The SPORT band is light weight to provide flexibility and airiness and is:
made of an open-cell foam-based
is hypoallergenic more breathable, and lightweight so if you are active or live in a hot climate, have sensitive skin, or are having a c-section this may be the better choice and more comfortable for you
The SPORT belt comes with 1 add-on elastic extra support belt for adjustable support levels from mild to strong support
The Babybellyband Flip-It Reversible is our strongest support belt and great longevity for more than one pregnancy or daily use.
The Babybellyband Flip-It is:
Reversible is made of Black on one side and Flip-It for beige on the other which is great for matching or hiding under all types of clothing.

Comes with 2 removable, add-on support bands in black and beige so you can have the same superior support with both colors.

The material is also neoprene so has the same fabric qualities as the Original Babybellyband.

Support is greater medium to heavy duty with a stiffer yet very flexible 5″ belt for stronger support