Pregnant Women Should be Cautious During the Holidays
Posted on November 30, 2022
|
|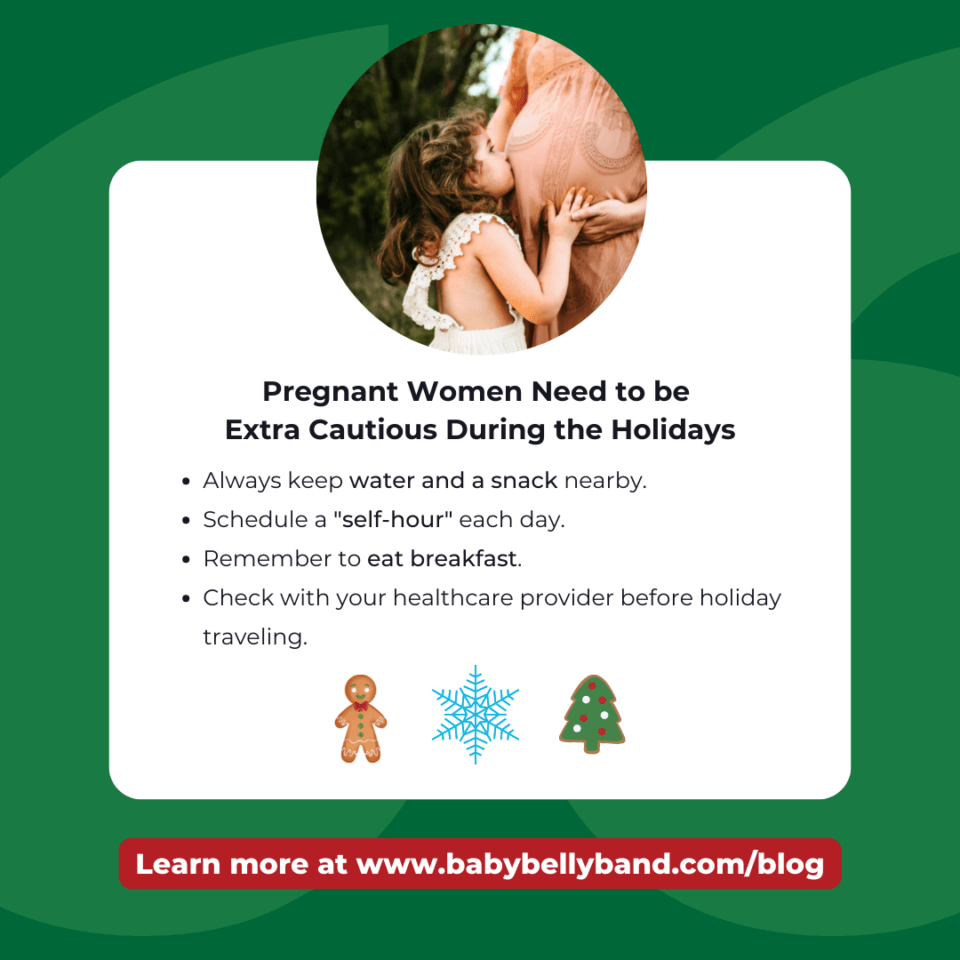 Holiday cautions for pregnant women
The content below was summarized from the following La Follette OB-GYN article.
December is filled with festivities, parties, travel, and events. The month can be hectic, especially if you are an expectant mother. Moms-to-be will require additional rest breaks as they juggle extra time with family, friends and colleagues during the holidays. Studies show that a lack of rest can slow down an expectant mom's metabolism, making her more likely to eat carbs, and less likely to exercise. Additional studies show a significant need for pregnant women to de-stress during December.
Ways for moms-to-be to keep themselves (and baby) healthy during the holidays:
EAT AND DRINK
• Always keep water and a snack nearby.
Cooler temperatures and running around during the holidays often causes pregnant women to feel dehydrated, hungrier and faint. It is critical for you to always have within your reach two things: water and a protein- or iron-rich snack such as peanut butter or cheese slices. This will help you avoid headaches, fatigue, dizziness, and cramping.
TIME FOR SELF-CARE
• Schedule a "self" hour each day.
Expectant moms should never worry about having to say no to a holiday activity or invitation, and they should not feel bad for wanting to de-stress for an hour each day. In fact, expectant moms are encouraged to channel their nursery- and birth-planning skills toward their own well-being during the holidays. This could be doing something as simple as leaving the office to sit at a restaurant and eat, taking a nap or a warm bath, getting a prenatal massage, or going to a yoga class to relieve aches and pains. Some health-care practitioners encourage expectant mothers to do at least five minutes of meditation each day, not only during the holidays but throughout their entire pregnancy.
NUTRITION MATTERS
• Remember to eat breakfast.
Expectant moms should never skip a nutritious breakfast to "save their appetite" for holiday dinners and parties. Binging at holiday dinners and parties will spike insulin level, increase fat storage, and send extra glucose to the baby.
• Fill up on the right nutrients to assure good nutrition for your baby
When expecting during the holidays it is important to fill up on the right foods with the best nutrients; balancing heavy holiday meals with well-rounded dishes that support health and keep blood sugar levels under control. Pregnant women should not restrict themselves from enjoying their favorite holiday foods, but it is highly recommended they consume them in smaller portions. The holiday plate of expectant moms should have plenty of vegetables and protein-filled foods. (Pregnant women should aim for at least 60 – 100 grams of protein daily).  Possibly substitute fresh fruit for candy or have limited sweets.
• Know recommended pregnancy weight gain for your body type.
HEALTH PRECAUTIONS
• Traveling
Some pregnant women are more prone to blood clots, which may occur on long trips. It is always advised for traveling moms-to-be to walk around every hour or so to keep blood flowing normally.
• Reduce risk for seasonal flu
Expectant moms are always advised to wash their hands frequently and to avoid contact with sick people and crowded settings. It is critical to remember this during the holiday season. Pregnant and postpartum women are at higher risk for severe illness and complications from influenza than women who are not pregnant thanks to changes in the immune system, lungs, and heart during pregnancy.
GET PHYSICAL
• Exercise with health-care provider approval
Studies show increasing energy output each day, counteracts the sweet cravings many pregnant women get year-round, including the holiday season. The truth is, physical activity during pregnancy improves and maintains fitness, helps with weight management, and reduces the risk of gestational diabetes. Expectant moms should always check with their healthcare provider for exercise approval.  Talk to your doc about what exercise levels are recommended for you.
• 150 minutes of moderate-intensity aerobic activity every week is recommended.
The 150 minutes can be divided into 30-minute workouts on five days of the week or into smaller 10-minute workouts each day. Increasing energy output comes in many forms, including walking, jogging, biking, rowing machine, elliptical machine, and swimming. Those new to exercise should start out slowly and gradually increase activity; those active before can do the same workouts with approval by their health-care provider.
Relieve your pain with a Baby Belly Band pelvic support kit.
Read the full article at La Follette OB-GYN.