How to Prevent and Heal Diastasis Recti
Posted on November 1, 2017
|
|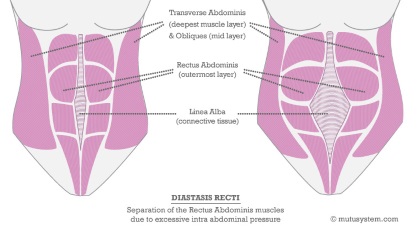 How to prevent and heal diastasis recti
Diastasis recti is common during pregnancy.  There are ways to prevent, heal and treat this condition during pregnancy and postpartum which are safe for both mom and baby.  Many excellent exercise programs exist which will help you heal your body from diatasis recti and abdominal support systems which can prevent further progression of the muscle separation.   But first…
What is diastasis recti?
Diastasis Recti (DRA) is defined as a separation between the left and right abdominal muscle walls.  This separation causes a gap, easily felt, along the midline of your belly.  The image below (reposted with permission from mutusystem.com) shows the difference between the abdominal region with and without diastasis.
The separation of the stomach muscles (called rectus abdominis) can occur in many different locations shown below.
Who can be affected?
Technically, everyone can be affected! Obesity, exercises that strain your abs, pregnancy and other factors can cause muscle separation.  Pregnancy, though, is the number one cause.  In fact, studies show that a whopping two-thirds of mothers experience some degree of DRA during and after pregnancy.  The likelihood of developing it increases with every additional pregnancy.  Petite women, women expecting multiples (twins or triplets for example), and older mothers are also more likely to develop diastasis recti.
What causes diastasis recti?
During pregnancy, your uterus grows to make room for your developing baby.  The growing uterus puts increasing pressure on your ab muscles, causing them to separate.  At the same time, your linea alba (a connective tissue found along the midline of your abdomen) softens, allowing your abdominal wall to expand.  The growing uterus and softer connective tissue together lead to a separation between the left and right abdominal muscles, otherwise known as diastasis reciti.
Do I have diastasis recti?
If you notice a distinct separation during pregnancy or a stubborn pooch on your tummy postpartum, lower back pain, incontinence, or constipation, you very well may be one of the two-thirds of mothers who have diastasis recti.  Luckily, it's very easy to check if you do.  This diastasis recti test can be performed at home:
Lie on your back with your knees bent and feet flat on the floor.
Put your hand on your abdomen with your fingertips at your midline directly above your bellybutton.
Gently press your finger tips down.
Lift your head off the floor into a half crunch.
Feel for a three or more finger separation along your midline.
There are also specific video instructions for checking for Diastasis Recti on www.fit2b.com
How do I heal my diastasis recti?
If you find that you do have diastasis recti, there are a series of exercises as well as guidelines you should follow to prevent and heal the issue.  Our products can also help.  The Babybellyband abdominal band can prevent progression of muscle separation if worn during pregnancy, and support the muscles if worn postpartum.  Also, a variety of pelvic floor and core strengthening exercises can work with your Babybellyband to heal your gap.  Reputable online programs can be found at either: