How to help Round Ligament Pain during Pregnancy
Posted on March 14, 2018
|
|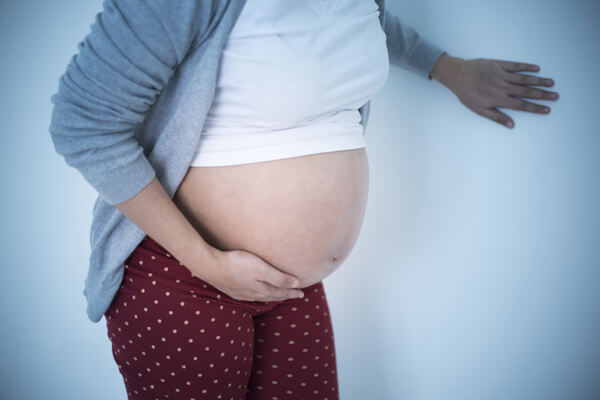 Over Stretched and Under Stress: How to heal Round Ligament Pain and Strain during pregnancy
Round Ligament Pain, what? Before pregnancy you probably didn't even know you had a round ligament.  It is very common during pregnancy for these little ligaments to really let you know they exist as they begin to stretch out.  If you are 10-18 weeks pregnant and experiencing sharp, jabbing pains along your bikini line or lower abdomen, it could be round ligament pain—a common discomfort for women who are in their second trimester of pregnancy. Your body has a set of round ligaments which expand to support the uterus during pregnancy. Normally compared to the size and shape of a pear, the uterus can feel like The Great Pumpkin when labor is approaching, and your round ligaments work to keep everything in place.
As the uterus grows, the round ligaments become thinner and tighter, with the tension of stretched rubber bands. When round ligaments pull on nerve fibers, the result can be very painful. Pain is often received on the right side as the uterus tends to move in that direction, but can be felt on both sides of the hips and extend through the groin area. Round ligament pain is often very brief, intensity ranging from moderate to severe. The ligaments work to relax muscles slowly and contract during sudden movements, making standing up or sitting down, rolling over in your sleep, and coughing or sneezing a real pain. The good news is, there are measures that can be taken to provide some relief from round ligament pain. However, it is important to speak with your doctor and receive a proper diagnosis before taking preventive action.
Best Practice for Round ligament pain:
Rest when you feel pain, round ligament pain usually resolves quickly.
Move slowly and when anticipating pain, flex at your hips and bend your knees to place less tension on the ligaments.
Switch up your position— if you are laying down and experiencing pain on one side, switch to the other. Make sure to avoid excessive sitting or standing to relieve extended pressure on ligaments.
Adopt a daily stretching or yoga routine as recommended by your healthcare provider. Slow flow yoga can help your body adjust to this new change.
Locate a prenatal massage therapist or physical therapist to help with pain.
Apply a warm compress or take a warm bath— too hot may be unhealthy for your baby but warm temperatures can be very soothing.
Wearing Maternity Support Wear can help remedy round ligament pain, as well as other pain you may be experiencing while pregnant from vulvar varicosities, vaginal prolapse, sciatica, and lower back pain.
The Babybellyband abdominal support band with shoulder straps work together as a customizable relief kit to support your belly and keep you active and pain-free.
Stay positive, round ligament pain is usually resolved before or at the time of your baby's arrival!
Hears what Health Professionals say…
"I absolutely love this belt and would wrap every pregnant mother in it if I could. It greatly reduces round ligament pain and false labor calls. I have been a nurse midwife for over 40 years and the baby belly band is the only product my moms will wear consistently." 
Nancy Giglio, CNM Richmond Birth Services
Sources: